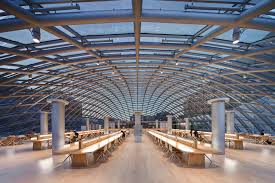 Come join the ITM team!
We're looking for a dynamic science communications professional who can weave complex research into colorful stories that show how the science is being translated to improve people's health.
Details are below. Learn more about his entry-level position and apply at the UChicago Jobs site for Requisition Number 100515.
The National Institutes of Health's National Center for Advancing Translational Sciences (NCATS) awarded The University of Chicago a Clinical and Translational Science Award (CTSA) to accelerate the speed at which science discoveries are translated into real-world applications to improve people's health. UChicago's CTSA does so by providing resources to basic, clinical, and translational scientists through new professional interactions, program and research projects, and by eliminating barriers within research. The Institute for Translational Medicine (ITM) is the administrative unit for UChicago's CTSA program, and it works with more than 60 institutions across the country as part of the CTSA consortium to advance medicine in innovative ways and transform research results into improved clinical practice. The ITM operates across divisional, departmental, and professional school lines to generate new research methods, technologies, and molecular target discovery. It also works with its affiliates at Rush University Medical Center, the Illinois Institute of Technology (IIT), and NorthShore University HealthSystem, along with strategic Chicagoland partner organizations and community members to convert biomedical research into health improvement and to raise public awareness about the research being done and the importance of their participation in clinical trials.
Using established procedures and working under supervision, plans, prepares and disseminates information designed to keep the public informed of the organization's programs, accomplishments, or point of view. Accomplishes assigned duties through two or more of the following: written communications; visual/graphic media, which may include Web site maintenance; speeches and personal contact. Work may be routine and performed according to detailed instructions, but at times may be varied and somewhat difficult in character. The science communications specialist helps execute communications plans that help enhance the ITM's reputation and expand its reach. This member of the ITM team will help communicate research findings in easy-to-read formats, contributing written, visual, and multimedia content to the ITM's internal and external communications vehicles to convey the ITM's mission and strategic goals. These vehicles include new and developing websites and electronic media, as well as other mechanisms, such as weekly e-newsletters, quarterly/annual publications, videos, brochures, pamphlets, position papers, letters, social media, and other materials/platforms. The science communications specialist will work as part of the ITM team and collaborates with stakeholders, such as the University of Chicago Medicine (UCMC) and Biological Sciences Division (BSD), Chicagoland affiliate institutions and partners, and members of the national CTSA consortium to execute ITM communications plans. The person in this position will act as a science reporter, digesting scientific publications, interviewing the research authors, and translating the discoveries and science into dynamic stories the general public can understand. The science communications specialist will explain how research and initiatives are working to improve human health and may help coordinate the work of ITM communications interns and university and Chicagoland affiliate collaborators.