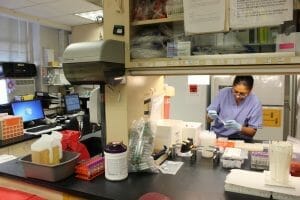 Join our team and mission to improve people's health! The Institute for Translational Medicine's (ITM) Clinical Research Center (CRC) is searching for two new Clinical Research Center coordinators. The coordinators will oversee the day-to-day activities of CRC clinical trials to ensure that every stage of a research study runs smoothly. Responsibilities include:
Working closely with study PIs, the clinical research manager, department, sponsoring agencies, and the Office of Clinical Research (OCR) to support and provide guidance on the logistical, financial, and research-related aspects of research studies.
Coordinating, monitoring, and completing daily clinical trial activities.
Collecting, documenting, and reporting research data.
Ensuring studies comply with research, federal and local guidelines, and Good Clinical Practice (GCP) standards.
Click the below link and search for posting ID 683499 to learn more about the position and submit your application.
About the Institute for Translational Medicine (ITM)
The Institute for Translational Medicine (ITM) makes research breakthroughs happen and gets those discoveries into the real world to improve your health as soon as possible. The ITM is a partnership between the University of Chicago and Rush in collaboration with Advocate Health Care, the Illinois Institute of Technology (Illinois Tech), Loyola University Chicago, and NorthShore University HealthSystem that's fueled by almost $35 million in grants from the National Institutes of Health (NIH). We're part of a network of more than 60 NIH-supported sites across the country working to slash the time it takes to develop and share new treatments and health approaches. We work with you and for you to make participating in health research easy, so that together we improve health care for all.
Join the movement and learn more about how we help researchers, physicians, community members, industry, government organizations, and others at chicagoitm.org.
Connect with us on Facebook and Twitter @UChicagoITM.
The ITM is supported by the National Center for Advancing Translational Sciences (NCATS) of the National Institutes of Health (NIH) through Grant Number UL1TR002389.