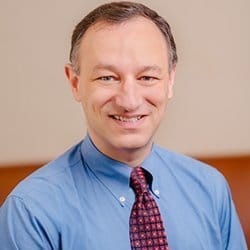 The New York Times Magazine recently featured ITM Associate Director and Learning Healthcare Systems Core Leader
David Meltzer
, MD, PhD, for his work measuring the value of the doctor-patient relationship.
The U.S. health care system has made it increasingly difficult for patients to get individual attention from their primary care doctors, instead favoring a more digital, profit-heavy approach. Meltzer's research aims to quantify the personal relationship between primary care doctor and patient, research happening in part thanks to a foundation laid by ITM resources. Preliminary results suggest that a stronger doctor-patient bond can reduce patients' number of hospitalizations, medical expenses, and improve their mental health.
"This work is a great example of the bench to bedside to policy vision of translational research that our CTSA has nurtured," said Meltzer, a professor of medicine, general internist, and economist at University of Chicago. "From the origins of the idea in economic theory and the infrastructure available from our history of CTSA support and community engagement that prepared us to do this, we're now thrilled to look for ways to partner with others in the CTSA to disseminate and further test the model."
Meltzer's research already shows that a more hands-on doctor-patient relationship leads to a decrease in medical costs and better health outcomes. The next step towards implementing his research to impact real patients is to test the model in different financial, geographic, and demographic circumstances.
"We're tremendously excited and proud of the innovative and important work in redesigning healthcare that David and his team are doing, which leveraged ITM resources to great effect," said Julian Solway, MD, dean for translational medicine at the University of Chicago and founding director of the ITM. "This is a terrific example of how the ITM and the national CTSA consortium advance health research, and we hope investigators across all ITM institutions will take similar advantage of what we have to offer."