Responsible Conduct of Research (RCR): Mentoring: What Can You Expect?
Speaker
Julian Solway MD

Julian Solway MD

Walter L. Palmer Distinguished Service Professor of Medicine, Pediatrics, and Family Medicine
Dean for Translational Medicine
University of Chicago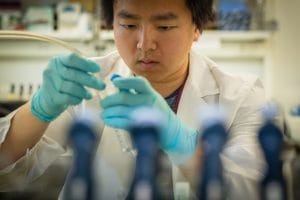 The Responsible Conduct of Research (RCR) gives you a front-row seat to the issues scientists can face and the best ways to handle them. RCR addresses everything from conflicts of interest to the ethical treatment of animals to intellectual property. All those who receive support from a National Institutes of Health (NIH) and/or National Science Foundation (NSF) training grant are required to complete an RCR at the start of their training and again every four years. The RCR course is free and open to everyone. Participants must attend eight of the eleven sessions to receive a certificate of completion. Video attendance is needed to meet this requirement.
Want to be an ITM Insider? Tell us what you want to know and we'll send it direct to your Inbox.
Copyright © 2019 Institute for Translational Medicine (ITM). All Rights Reserved.