Speakers
Annabelle Santos Volgman, MD, FACC, FAHA

McMullan-Eybel Professor of Excellence in Clinical Cardiology, Immediate Past Director, Rush Heart Center for Women, Rush University Medical Center

Janice Phillips, PhD, RN, CENP, FAAN

Assistant Director, Illinois Department of Public Health

Nicole C. Woitowich, PhD

Executive Director, Northwestern University Clinical and Translational Sciences Institute, Feinberg School of Medicine

Shikha Jain, MD, FACP

Associate Professor of Medicine University of Illinois Cancer Center President, CEO, & Founder Women in Medicine®

Vineet Arora, MD, MAPP

Dean for Medical Education, Herbert T. Abelson Professor of Medicine, The University of Chicago Pritzker School of Medicine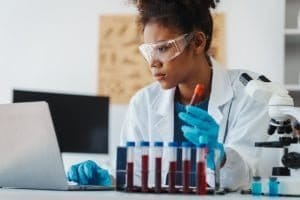 Join us for ITM Grand Rounds featuring a thought-provoking panel discussion commemorating the 30th anniversary of the National Institutes of Health (NIH) Revitalization Act, a landmark legislation that reshaped the landscape of women's health research and advocacy. This event delves into the pivotal role played by the NIH Revitalization Act in advancing the health and well-being of women. The session, titled "Breaking Barriers: Celebrating Thirty Years of the NIH Revitalization Act and Women's Health Research," is co-sponsored by the three Chicagoland Clinical and Translational Science Award (CTSA) hubs: ITM, Northwestern University Clinical and Translational Sciences Institute, and the University of Illinois at Chicago Center for Clinical and Translational Science.
The panel discussion will bring together experts, researchers, and advocates to reflect on the impact of the NIH Revitalization Act on women's health. The Act, enacted in 1993, was a watershed moment, ensuring the inclusion of women in clinical trials and catalyzing research on diseases affecting women disproportionately.
This event is open to everyone passionate about women's health, from researchers and healthcare workers to advocates and members of the public!
How do I get to MATTER from inside the MART?
Take the central elevators to the 12th floor. MATTER is located directly outside the elevators.
Parking:
MATTER validates parking for the lot located at 210 N. Wells Street at the rate of $12.00 for 12 hours. In addition, there are two Mart-specific lots which MATTER can validate for a small group of people: Mart Parc Wells and Mart Parc Orleans. Metered parking is also available along Kinzie Street. Please be advised that parking in either of the MART's access drives will result in your vehicle being towed or ticketed.
Want to be an ITM Insider? Tell us what you want to know and we'll send it direct to your Inbox.
Copyright © 2019 Institute for Translational Medicine (ITM). All Rights Reserved.