Discounted Registration Deadline: Translational Science 2022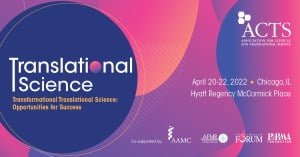 Translational Science 2022  is happening at the Hyatt Regency McCormick Place in Chicago from April 20-22! Join the Association for Clinical and Translational Science and colleagues from across the nation and together explore research that transforms existing scientific paradigms. Discover opportunities for success at educational and networking activities that provide direct exposure, working knowledge, and insight into the field of clinical and translational research. Register by February 14 to secure the best registration rates!
Want to be an ITM Insider? Tell us what you want to know and we'll send it direct to your Inbox.
Copyright © 2019 Institute for Translational Medicine (ITM). All Rights Reserved.