Community-Engaged Research Series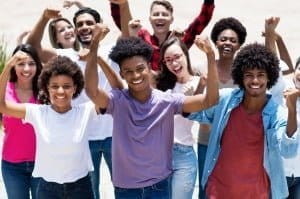 Are you interested in community-engaged research? Do you want to address health equity and research development at the grassroots level? Don't miss the first virtual lecture in a brand new ITM series all about community engagement! You'll hear from ITM-Illinois Tech site lead Patrick Corrigan, PsyD, and Karyn Bolden Stovall on Community Based Participatory Research: Lessons from Peer Health Navigators. They will use their work with peer navigators to illustrate the power of community-based participatory research (CBPR) when addressing health and wellness goals of people with serious mental illness from diverse ethnic groups.
CBPR rests on a partnership among diverse stakeholders like researchers, health care providers, and people with lived experience, to develop and evaluate interventions for "focal" health conditions: ways to address conditions like diabetes, hypertension, COVID-19, or major depression.  CBPR invited patients and people who have struggled with a focal health condition and experienced corresponding treatments to be essential partners on the team.  Partner is key; patient stakeholders fully join with researchers and care providers in defining research questions, crafting method to address questions, participating in analyses and interpretations, and framing directions for future implementation, development and evaluation.  CBPR is especially beneficial for health equity when teams elect to address health conditions in specific ethnic, gender identity, sexual orientation, and other groups.  For example, how might African Americans with serious mental illness who are homeless better avail primary care to manage chronic health conditions?
Lectures will be take place every three months virtually on Tuesdays, at 8 AM:  January 10, April 11, July 11, and October 10. Interested in presenting? E-mail Pat at corrigan@iit.edu!
Want to be an ITM Insider? Tell us what you want to know and we'll send it direct to your Inbox.
Copyright © 2019 Institute for Translational Medicine (ITM). All Rights Reserved.