Community Advisory Review Council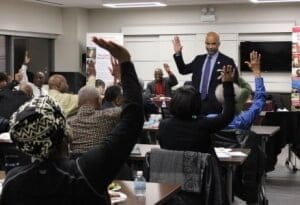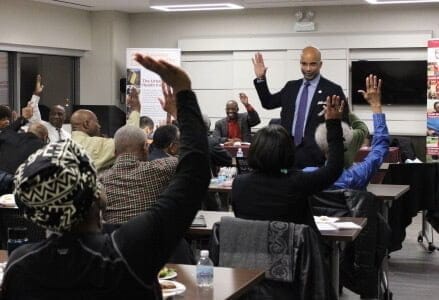 Everyone from religious leaders to educators to law enforcement come together through the Community Advisory and Review Council (CARC) to give ITM researchers feedback on their studies, recruitment plans, and more – all while learning important health lessons from the research presented to share with their communities.
Since 2007, CARC members have met at least eight times each year and given community input on more than 65 faculty research presentations.
Sessions are held from 6 to 8 p.m. on the 2nd Monday of these months. Contact Althera Steenes, Community and Collaboration Cluster Leader, at asteenes@bsd.uchicago.edu to learn more and secure your spot at an upcoming meeting.
CARC Mission Statement
The CARC builds a respectful bridge between researchers and the community to raise health awareness, increase community participation in all stages of research, share the good news and the benefits of research discoveries, and improve community health. It does so by providing meaningful counsel and feedback to researchers who interact with communities, sharing information with community members to help inform their health decisions, and providing counsel to the ITM on how it engages with communities. The CARC endorses the ITM's core conviction that participating in health research is a matter of shared self-interest and social justice for everyone, a transparent "new normal" toward which we will strive together in the years to come.
Want to be an ITM Insider? Tell us what you want to know and we'll send it direct to your Inbox.
Copyright © 2019 Institute for Translational Medicine (ITM). All Rights Reserved.