2023 Loyola Chicago Health Equity Quest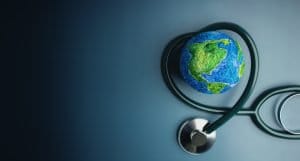 Join Loyola University Chicago's Parkinson School of Health Sciences and Public Health and MATTER, in collaboration with the Institute for Translational Medicine, for a one-day summit spearheaded by ITM-Loyola site leader Elaine Morrato, DrPh. The summit will bring together national thought leaders and innovators who are disrupting healthcare delivery through the lens of health equity and sustainability.
The U.S. healthcare system creates a massive amount of national and global waste and pollution, having a direct effect on the pace and severity of climate change. And as climate change worsens, it creates new and worsens existing health inequities.
The summit will feature a keynote address from Dr. Jalonne White-Newsome, Senior Director for Environmental Justice at the White House Council on Environmental Quality.
You can attend in-person at MATTER or virtually!
Want to be an ITM Insider? Tell us what you want to know and we'll send it direct to your Inbox.
Copyright © 2019 Institute for Translational Medicine (ITM). All Rights Reserved.