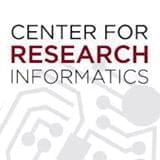 While working on an epidemiology research project, Amikar Sehdev became interested in big data sets and the bioinformatics needed to manipulate them. After attending a few Center for Research Informatics (CRI) bioinformatics training sessions, he said he decided to change his career trajectory and obtain bioinformatics certification.
"CRI was the catalyst," said Sehdev, a third-year Hematology/Oncology fellow at the University of Chicago Medicine.
Sehdev is now using bioinformatics in his own research comparing DNA mutations in obese colorectal cancer patients to those of colorectal cancer patients who are not. He is also a significant bioinformatics contributor in the lab of Olufunmilayo Olopade, MD, associate dean of Global Health and director of the Center for Clinical Cancer Genetics.
The Center for Research Informatics (CRI) has been hosting free bioinformatics training sessions supported by the ITM each month since 2012. In its first year alone, it taught more than 350 participants how to analyze complex biological data, according to a CRI annual report.
"Bioinformatics has become a vital analytic tool for conducting research, and we've made education an important part of CRI's mission to meet the needs of our research community," said Samuel Volchenboum, MD, PhD, director of the CRI and associate director of the ITM. "We're working to expand our course offerings in partnership with the University of Chicago Medical Center, ITM, and other affiliates so that we can build on the excellent training that's already underway."
Volchenboum said that training is being led by Jorge Andrade, PhD, CRI's director of Bioinformatics. Andrade and Wenjun Kang, MS, a CRI Bioinformatics Core scientific programmer, led a three-hour session in May that served as an introduction to Linux, the primary operating system used in bioinformatics.
"Many of the people participating do not have formal training in computer science or computer engineering, so this motivates them to get interested and involved," Andrade said.
Attendee Tunde Adedokun, a University of Chicago Medicine student research assistant, said the training was a great way to learn something useful to his career.
"I've used Windows all my life, so this opportunity is something that will be really helpful," he said.
Other participants, like Shwu-Fan Ma, PhD, go in having more experience in the field. Ma is a research associate (assistant professor) at the University of Chicago Medicine's Section of Pulmonary/Critical Care and has attended at least five of CRI's bioinformatics training sessions.
"The audience level is very broad, and the instructors are very knowledgeable," Ma said. "After the first part of the lecture it's up to the more advanced audience members to raise questions and they will answer for the specific needs. You can always get something out of it."
And that something comes at no cost – which could translate into saving thousands of dollars.
"A training session on Linux for three hours will usually cost $300 to $500," Andrade said, "And more specific analysis could go in the order of thousands."
But the impact the training has on careers like Sehdev's and research in general can't be quantified with a price.
The amount of data generated from the benchside and bedside can run into the millions of entries and top hundreds of gigabytes, according to Ma, making bioinformatics knowledge critical in moving toward precision care.
"Bioinformatics is essential now for the future of medical research," she said. "The large quantity of data needs to be sorted and then quality-controlled, and you just can't do that manually anymore."

Want to learn more about bioinformatics? Reach Jorge Andrade at jandrade@bsd.uchicago.edu.

By Sara Serritella/UChicago ITM Copyright © 2015 University of Chicago Institute for Translational Medicine (ITM). All Rights Reserved.